Facebook Badge

Networked Blogs

Saturday, April 10, 2010
9:06 AM |
Posted by Frugal Science Gal
|
Edit Post
I recently won an OxiClean Max Force Prize Package from
Deal Seeking Mom
. On a recent trip I must have put my elbow into something and got a stain on my little white sweater that I often wear over nice blouses or dresses.
Here are the stains
: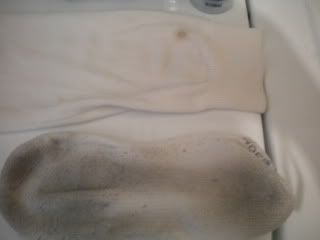 I have another wedding to go to today so I decided I would try out this OxiClean Max Force Prize Package for the first time to see if I can get that awful stain out of my sweater. I also decided to throw in one of my boyfriend's socks. I am often surprised at how dirty he can manage to get them so this will be a true test of how great this system works. To clean the sweater and sock today, I will be using the OxiClean Max Force Pre-treater Gel Stick and the OxiClean Max Force Laundry Stain Fighter & Booster Power Paks.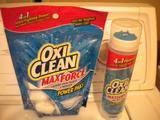 I put the Gel Stick on and it said to allow it to sit for 5-10 minutes depending on the severity of the stain. I let it sit for 10 minutes.
For the Power Paks it said to
"Add 1 Power Pak into the washing machine, along with your detergent, while filling."
So, I did just that.
I also threw in some other socks and camisoles that into the load because I just could not allow myself to waste a whole load of laundry on 2 items (for the environment or cost of electricity and water).
These are the results
:
The stains on the shirt sleeve and the sock were drastically reduced but were not eliminated. It does say on the package that "
really tough stains may require 2 Paks for best results
." and another option on the package says to "
Pre-soak to remove extra tough stains
" which requires to "
soak 1-6 hours"
. I will definitely try one of these options next time. Overall though, I am really impressed and will most likely purchase these products in the future.
Recommendations
:
Use 2 paks or follow the Pre-soak instructions on the package for stains that look as tough as these.
(I completed this review free of charge. I received this product through a giveaway on another blog and chose to review the product myself.)
Labels:
Product Reviews/Giveaways