Facebook Badge

Networked Blogs

Thursday, April 29, 2010
2:43 PM |
Posted by Frugal Science Gal
|
Edit Post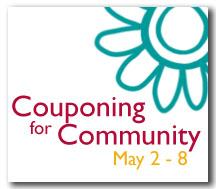 Here is a great opportunity to give some of your stockpiled good to a great cause!! Kaley has put together a facebook group so that we can all share our stories about the "warm fuzzy feeling" that you get when you do a good deed. There will always be a linky on May 8 on Cha Ching on a Shoestring's blog on May 8 to link up your blog post or share comments on how you were able to participate in giving during the week. Or you can even go to the Facebook Event Page and share comments and pictures! I'm so excited about this event!!
Personally, I know that sometimes I buy things that I don't REALLY need because I get a thrill out of getting a good deal. You can put all those items that you don't think that you really need or will use toward a donation to your local community. Brandy over at
Brandy's Big Bargains
said, "I know the look on the faces of the people who received all of my donated Blood Glucose Monitors was priceless." We can all help our local community even if it is in just a little way...if we all get together it can be amazing! I hope y'all will consider joining us on May 2-8 to donate to your community. I know that I have stockpiled on feminine products and during our last move I realized that I might have had more than I needed so I donated some to the local women's shelter.
You can read more about it
here
at Cha Ching on a Shoestring.