Facebook Badge

Networked Blogs

Sunday, June 6, 2010
11:26 AM |
Posted by Frugal Science Gal
|
Edit Post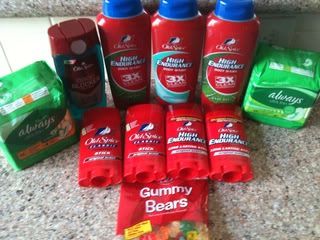 Used 4

FREE Old Spice Body Wash wyb Body Wash or Deodorant (P&G 6/6/10)

Used 2 $1/2 Old Spice Deodorant or Body Wash (P&G 6/6/10)

When you spend $25 of select items you receive $10 RR

Used 2 Free Always Maxi 18 count coupons that I received when I bought Kotex products last week.
Total: $11.52 (with tax)
Used: $7.50 RR
OOP: $4.02
Received: $10 RR
Made it under $5 Out Of Pocket this week!!!
There should also be 1 more bag of gummy bears but we ate them on our way home. If we would have bought 1 more bag we could have used another $2.50 RR but we can just save it for next week.