Facebook Badge

Networked Blogs

Friday, June 18, 2010
10:45 PM |
Posted by Frugal Science Gal
|
Edit Post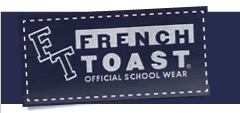 While we are all looking to save money, prepare this year by saving money on uniforms for your kids!
They are also hosting a giveaway for $15,000 for the individual and school.
The contest is called,
"Show Us The Real 'U' In Uniform"
and it is designed to provide a forum for students to express their individuality while wearing uniforms. All you have to do to enter is submit a video or image with a brief explanation and form!
The contest ends September 15, 2010 so make sure to enter before time runs out!!
*I am being compensated for this review by French Toast at the completion of this giveaway.