Facebook Badge

Networked Blogs

Sunday, May 9, 2010
11:44 AM |
Posted by Frugal Science Gal
|
Edit Post
I received a Table Runner from
Silly Mama Quilts
as a giveaway from another blog. Honestly, I was really excited when I won the Table Runner and happy with the product that I picked out on her website, but none of those pictures did justice to the actual product! I was so excited when I took the Table Runner out of the package because I was so much happier with the product when I saw it in person! It is truly a product of great quality! I was so IMPRESSED with the quality of her work that I had to e-mail her to thank her for such an awesome product.
Her products are handmade and of superb quality. She even says on her store's site,
"Shop with confidence - each item listed in my shop is an item I would be proud to give to my closest friend!"
After seeing one of her piece's, I can say that I would be proud to give this as a gift to any of my closest friends or have it in my own home which I now do!
She makes gorgeous quilts:
And Clutches:
Here are some pictures of the Table Runner that I have from Silly Mama Quilts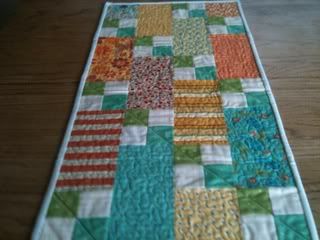 And here is a picture that shows some of the intricate details that are involved in it.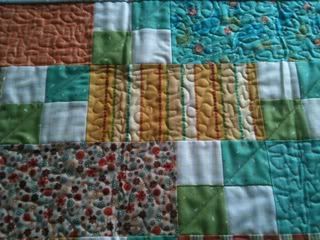 She also makes other items such as Table Runners and Cup Wraps!
Silly Mama Quilts is offering one of my readers a $20 gift certificate to be spent in her shop!
To enter to win this $20 Gift Certificate do the following!
Mandatory Entry
:
Go to
Silly Mama Quilts
and tell me which item you would spend the $20 gift certificate on.
Extra Entries
:
1. Follow my blog [Right Side Bar](3 entries)
2. Subscribe via e-mail to my blog [Right Side Bar] (3 entries)
3. Follow Silly Mama Quilts blog (3 entries)
4. Follow me on Twitter
@FrugalScience
(1 entry)
5. Follow Silly Mama Quilts on Twitter
@scrapquiltqueen
. (1 entry)
6. Buy something from Silly Mama Quilts and let me know the name you made the purchase under (10 entries)
7. "Heart"
Silly Mama Quilts
Etsy Shop (2 entries)
This giveaway will end on May 26, 2010 at 11:59 pm CST. It is only open to U.S. Residents. The winner will be mailed a $20 Gift Certificate from Silly Mama Quilts to be used by the end of the Calendar year. Good Luck!!
This Review is based on my honest opinion and I did not receive compensation of any form in order to give this review. I received the product free based on my winnings hosted by another blog.