Facebook Badge

Networked Blogs

Tuesday, May 25, 2010
4:59 PM |
Posted by Frugal Science Gal
|
Edit Post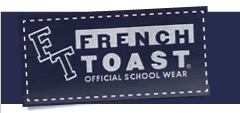 French Toast
, a provider of school uniforms (check them out!) is giving away $15,000!!! The winner will receive
$10,000 in cash and their school will receive $5,000 in vouchers from French Toast.
The contest is called,
"Show Us The Real 'U' In Uniform"
and it is designed to provide a forum for students to express their individuality while wearing uniforms.
Contest Description:
"French Toast is looking for the best example of "U" in your uniform. Do "U" play a musical instrument? Do "U" do sports or participate in extracurricular activities? Do "U" feed the homeless or help the underprivileged? Whatever it is "U" do and are proud of in your school uniform, we'd love to know!
Send us your photos or upload a cool video - it's your call! Simply fill in the form with a brief explanation and upload your video or images. It's that easy!
Ten finalists will be chosen on or around November 1, 2010 and their entries will be posted on the website for public voting! The winners will be announced on or around November 30, 2010.
All contest entries must be submitted by 11:59 PM ET September 15, 2010."
That's all you have to do!! Fill out a form, submit a photo or video, and you are entered to win $15,000!!! Think about all the 'following' and 'liking' you do daily for giveaways where you might win free a free book...Just think about how little of an effort this is to win $15,000!
Good Luck!!