Facebook Badge

Networked Blogs

Monday, September 6, 2010
3:26 PM |
Posted by Frugal Science Gal
|
Edit Post
Since I am moving into a new place soon, I need SOO many items!!
A great place to get all of these items is CSN Stores!!
One of their amazing products that I've been looking at are their
Bistro Sets
!!
These are great for both apartments and houses which is perfect for me since I'll still be moving around for the next few years!! Whether you are looking for an apartment, a kitchen nook, Pub Set, or even dining room table...these Bistro Sets are perfect!!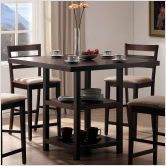 What makes CSN Stores so great when it comes to these sets is that they have FREE SHIPPING on most of them!! What a concept?!? I've seen other retailers that will charge as much as $250 for shipping! Even for them to put it together for you in the room of your choice and remove the packaging the price is about $150! If you have somebody handy around though, they allow you to make that choice instead of forcing you to have it delivered for an outrageous charge.
It's going to be another item that I need for my new place!
Be on the look out for the Review!!