Facebook Badge

Networked Blogs

Wednesday, September 8, 2010
7:27 PM |
Posted by Frugal Science Gal
|
Edit Post
This week's deals aren't great money makers or anything but I had $28 in extra bucks expiring so I was forced to purchase lots of stuff and what better than the essentials!! I also forgot to use my $1/1 Scott Paper towel rolls coupon and completely forgot about the Trident deal even though I brought my coupon! But despite all of that...here's my purchase this week: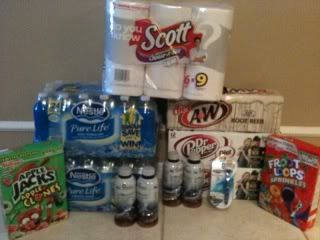 I purchased:
(2) 24 packs of Nestle Pure Life Water- $2.99 each
(1) Schick Hydro Razor- $8.97

Used $5.00/1 Razor (SS 8/8)
Received $4 ECB

(1) 6 pack of Scott Paper Towels- $4.99
(4) Sobe Drinks- $1.59 each BOGO
(3) 12-packs of sodas- 3/$11

No coupons used
Received $3 ECB

(2) Kellog's box cereals- $1.77 each
Total: $37.66
After Coupons: $26.98
ECB Used: $24 ECB
Total Paid on Gift Card: $2.98
ECB Received: $7
Net Loss of $17 ECB and $2.98 on GC
Not what I'm used to with CVS but I think that all of them were good buys on items that we use around the house.