Facebook Badge

Networked Blogs

Sunday, July 18, 2010
11:42 AM |
Posted by Frugal Science Gal
|
Edit Post
Hey guys! Often times I buy the paper and look for the inserts I know are supposed to be there and recycle the rest of the paper. Well, this week there is a coupon that I'm sure most everyone can take advantage of in the Parade Magazine!!
It's for a FREE McDonald's Frappe or Fruit Smoothie!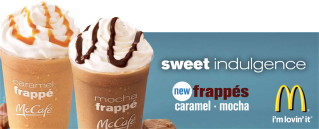 The coupon does not expire until 8/15 so whenever you are needing an extra pick me up on your way to work you can grab a Frappe or when you are on your way home and need an extra boost to get through the day, you can grab a Smoothie! Either way, it's going to be a great coupon!
So, when going through those papers, make sure to take that one out! I haven't tried the new Fruit Smoothies yet, but I have tried the Frappes and they are delicious!!