Facebook Badge

Networked Blogs

Saturday, July 9, 2011
7:33 AM |
Posted by Frugal Science Gal
|
Edit Post
About a year ago I did a review on the
Hamilton Beach Toaster
which we really enjoyed and have personally had no issues with. This review was part of
CSN Stores
where I was allowed to select an item and review it. It is by no fault of CSNStores, but yet I sill received this e-mail from CSN Stores informing me of a recall on the Hamilton Beach Brands Recall of Model 22600 Toasters:
We are writing to let you know that Hamilton Beach, in conjunction with the U.S. Consumer Product Safety Commission (CPSC), has announced a voluntary recall of the Classic Chrome 2 Slice Toaster.
Some potential safety issues have emerged with the heating element, which can remain energized indefinitely when an item is placed in the toaster. This malfunction can cause a fire hazard if the toaster is near flammable items. Fortunately, no injuries have occurred, but we wanted to alert you to the situation right away. A more detailed description of this recall can be found here:
http://www.cpsc.gov/cpscpub/prerel/prhtml11/11265.html

The recall affects the Classic Chrome 2 Slice Toaster, model number 22600 with specific series codes. These series codes begin with the letters C or D, and have the format of CXXXXBI or DXXXXBI, where XXXX is a four-digit number ranging from 0190 through 5290. The model number and series code are printed on the bottom of the toaster. The toaster has a chromed steel exterior, a front control panel with a rotary toast shade selector, function buttons arranged in an arc, a front removable crumb tray and "Hamilton Beach" printed across the front.
If you have one of the recalled toasters, please stop using it immediately and contact Hamilton Beach about receiving a replacement. You can reach Hamilton Beach at (800) 379-2200 anytime, or visit the firm's website at: http://www.hamiltonbeach.com/recall-info/toaster-recall/.
We wanted to bring this matter to your attention as soon as we heard about it, as your safety is our highest concern. We apologize for any inconvenience that this recall might have caused.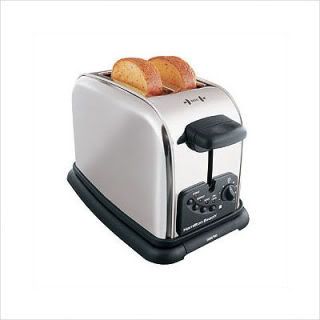 I loved that they wrote me to infom me of the issue! Another reason why I love CSN Stores
!