Facebook Badge

Networked Blogs

Monday, January 24, 2011
12:36 AM |
Posted by Frugal Science Gal
|
Edit Post
We moved into our new place about 2 months ago. We still don't have all of our walls filled up with decorations yet. One place I'm going to go to find some new
Wall Art and Decor
is CSNstores.com. One of the many stores that they have is Allmodern.com.
They have a GREAT selection of products that ANYONE can use in their home! Whether you like the ultra-modern or the traditional...there are products for every home!
AllModern.com has everything from mirrors...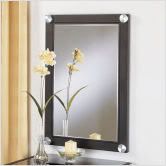 to wallpaper!! YES...That's wallpaper!! Love it!
Keep a lookout for the upcoming review!!
I may pick an item from AllModern.com or from one of the other 200+ CSN Stores!!!
The options are endless...the difficult part is being decisive.