Facebook Badge

Networked Blogs

Wednesday, January 5, 2011
6:40 PM |
Posted by Frugal Science Gal
|
Edit Post
Did you know that Frank's Red Hot had more than one sauce?
I didn't before this opportunity. I am so glad that I discovered all of the other options that can be found at...Walmart!! On their website you can find all the different varieties of sauces they have! They have them for almost every occasion you could want a sauce! Just look at these flavors: Red Hot Original, Red Hot Extra Hot, Red Hot Chili N Lime. They also have several WING choices to choose from: Red Hot Buffalo Wings Sauce, Red Hot Hot Buffalo Wings Sauce, Red Hot Sweet Heat BBQ Sauce. Even more a Red Hot Chili For Dipping and More!!! I believe that ALL of these are "And More"!
When we went to Walmart we found the Red Hot Buffalo Wings Sauce. Although this is a "Wing" sauce, doesn't mean you can't use it for much more!! Personally, I made BBQ sandwiches with this sauce. Yum!! It was a great combination of spicy and tangy.
Even better...the recipe I used was using a Hamilton Beach Slow Cooker. What does this mean? Prepare it...stick it in...and wait! Just that simple!! It was great to know that I already had dinner going early.
Recipe:
1 lb Pork Chop
1/2 can of Beef Broth
6 oz of Franks Red Hot Buffalo Wings Sauce
Instructions:
Put Pork Chops and Beef Broth in Slow Cooker. Cook on high for 4 1/2 hours. Shred pork (I used two forks). Put shredded pork in non-stick skillet. Pour and mix in Franks Red Hot Buffalo Wings Sauce. And...You're Done!!! Put over bread or eat plain. Either way, it's amazing!! I will definitely be using this sauce for many more recipes in the future!!!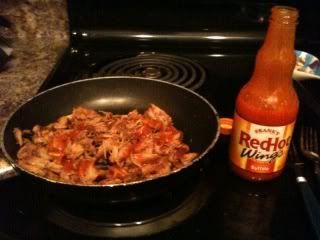 *I was compensated by and received a Hamilton Beach Slow Cooker from Collective Bias for this shop.