Facebook Badge

Networked Blogs

Saturday, October 23, 2010
12:09 PM |
Posted by Frugal Science Gal
|
Edit Post
Gain now has Dishwashing Liquid!!
I was given the opportunity to review the new Gain Dishwashing Liquid by MyBlogSpark. The exciting part is that you can now have the scent of Gain which so many people love as a Dishwashing Liquid.
The Scents are:
The Original- the one everyone loves!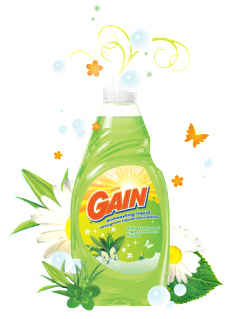 Lavender- sweet scent of spring
Citrus Splash- tart and tangy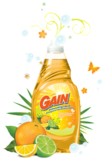 Apple Mango Tango- has Aromaboost technology which means it is specially formulated to release scent when it hits the water...that's neat!!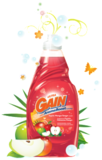 I was given the original scent to review and I went out and bought the Lavendar and I have to say that my favorite is...
The ORIGINAL!
It smells great while washing the dishes! In our house, we do most of our dishes in the dishwasher, but we definitely need the dishwashing soap for those tough pans and for our special dishes that cannot be washed in the dishwasher. So far, this soap has been proven to work great! The new Gain Dishwashing Liquid has done the job on everything I have thrown at it.
Here is the Wonderful Gain sitting in our Kitchen!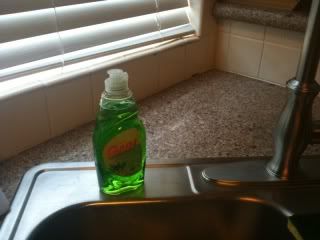 Also in the pack we were provided with 3 t-shirts. I gave these shirts to my boyfriends brothers. Two are in high school and 1 is in college. What better advertising than that? I made them promise that if I give it to them that they have to wear it to school at least once every two weeks and they agreed! So far...they have kept up their end of the deal!!
Here is a picture of the youngest one wearing his shirt when he came home from school:
To learn more about Gain Dishwashing Liquid, you can go to
ILoveGain.com
! You can also "Like"
Gain on Facebook
or follow
Gain on Twitter
!
*P&G provided me with Gain product, 3 t-shirts, Wal-mart gift card, and information through MyBlogSpark. All opinions are my own.